Ramón Gutiérrez
Name: José Ramón Gutiérrez Cariñanos age 51 years
– Practicing canoeing since he was 15 years old, being Spanish Champion of Aguas Bravas for teams as well as Spanish Rafting Champion.
– Descent of several rivers of Bravas water highlighting the descent in Kayak of the Zambezi River in Mozambique (Africa) considered in the world of the Kayak of the Brave Water as one of the five most difficult rivers that exist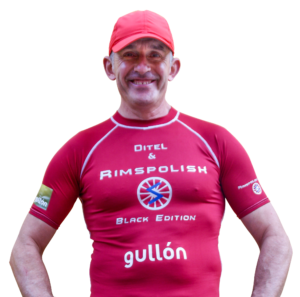 Dakar Rally
Dakar Rally
Ramón He participated in several editions of the Dakar Rally
– Dakar Rally 2005 – 2006-2007 in AFRICA
– Dakar Rally 2010 in South America Argentina – Chile
Rally Pharaos
In Egypt in the years 2005 – 2009 – 2012 he was a participant in the Rally of Pharaohs.
ATLANTICO CROSSING TO REMO
On December 10, 2017 I will depart from DAKAR (SENEGAL), to French Guiana, 4,700 km distance. This crossing of the Atlantic Ocean will be done alone with a rowing boat for approximately two months, without motor or sail, only with the strength of the oars and taking advantage of the currents and the winds, obtaining the electrical energy with photovoltaic panels in order to maintain communication equipment and desalination of drinking water.
 meteorología 
 Situación de Ramón
ON A MOUNTAIN BICYCLE
– Participation in two editions of the MTB "TITAN DESERT" 2009 – 2011 in Morocco.